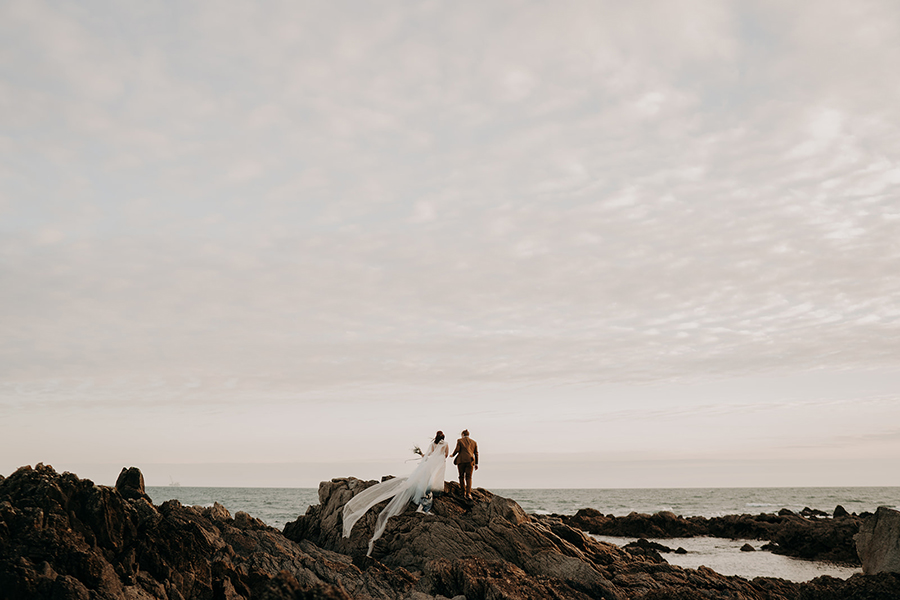 A 4 days micro wedding
Marisa and Ghislain broke with tradition by choosing to celebrate their wedding in the spring, on a beach in Brittany. A place they wanted beautiful and intimate, where they spent 4 days surrounded by their closest families and friends.
Their wish was to create a unique day that reflects their personality. Marisa therefore opted for a dress dyed in blue tie & dye, a reference to the ocean that surrounds them. The table background was adorned with an inspirational message: "earth wind & fire", symbolizing their love for the natural elements. Every detail, be it the decoration or the accessories, reminded why they had chosen this place.
During these 4 days, they took advantage of every moment and the breathtaking view, as if every second was precious. They felt the love and joy that surrounded them, in a magical place that they cherish.
We invite you to experience these moments through the photos and video we have taken.
Discover how they transformed a wedding into a unique celebration, where every detail has been carefully thought out to make these 4 days an unforgettable experience.
B.
---
Wedding planner & Designer : Tout doux liste - Dress : Geraldine Daulon - Suit : By Monsieur - Muah : Laura Julliard - Officiant: Magaly Zarka - Stationary : Allons-y Alonso - Live band: Just Married Band
---
Day 1 - Purification ceremony
M&G wanted something just for them both. A moment to appreciate the moment with incense, words of wisdom from the celebrant, and token gifts exchanged (and lots of glitter!).
Day 2 - The wedding day
After getting ready, they made their first look a special moment. Blindfolded, under a stone arch, the emotion was there. Then a few steps away, on this same beach, a cave dug by the sea served as the setting for the ceremony.
We then took advantage of the incredible cliffs that Brittany has to offer for a couple session in the wind, before meeting the guests for the evening.
Day 3 - Brunch
Hosted by Just Married Band in small private concert style, everyone was able to enjoy this musical moment. After a team game in the afternoon to amuse everyone and a short trip to the (cold) beach, the day ended with a campfire and roasted marshmallows.
Day 4 - A second couple session
To enjoy the scenery and their wedding outfits once again, we walked the beach, climbed the black rocks and braved the wind for a couple session at sunset.
The wedding video by Jeremie
Discover another beach wedding style HERE