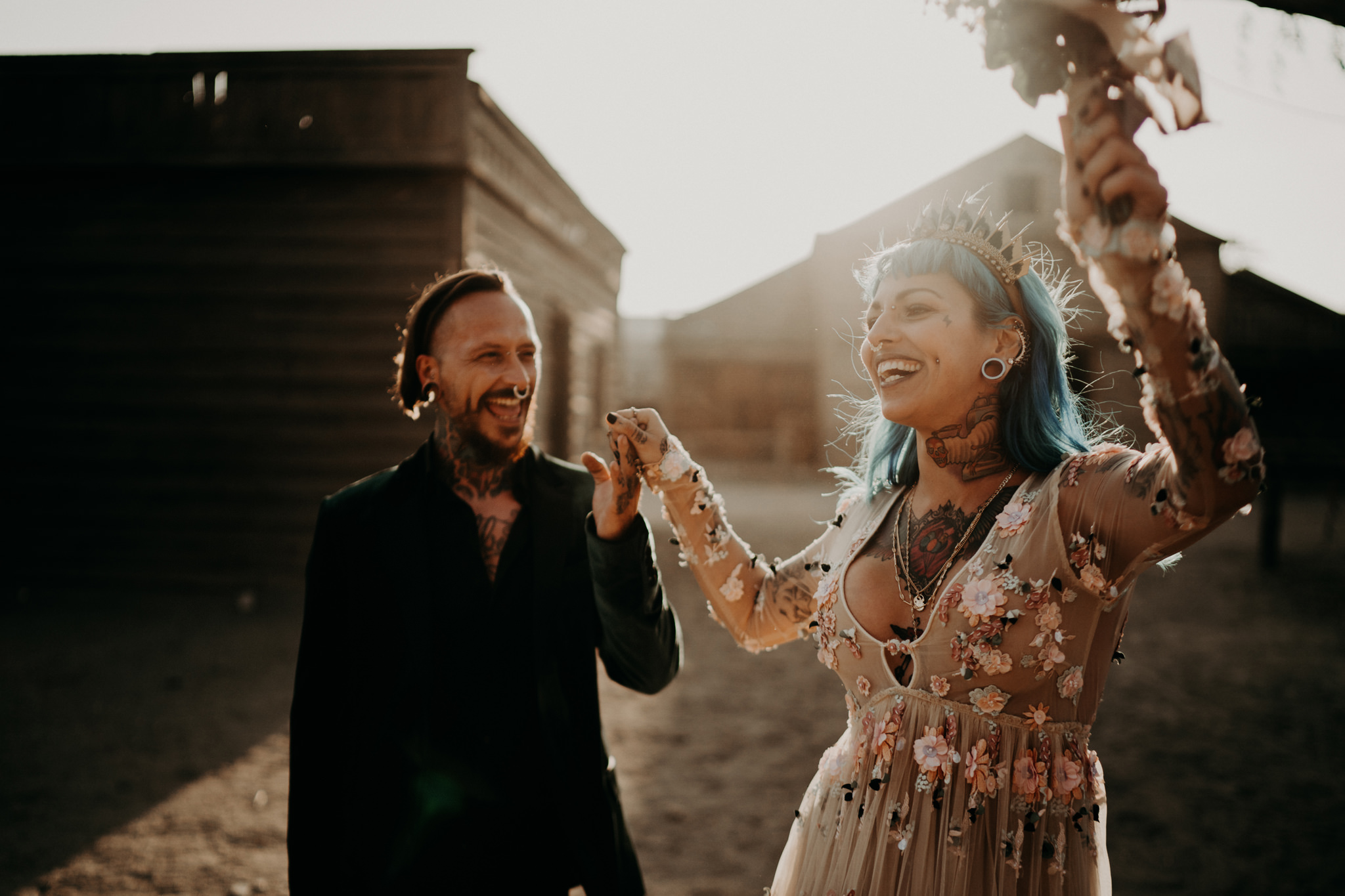 An alternative elopement in a western decor.
Let's be clear, this desert elopement is not real.
I mean Aida & Ismael are a real couple, they are really in love, and they are living in Spain.
But the rest is history.
Let me explain a bit. As Sony Ambassador, Jeremie and I have been contacted by Sony Europe to shoot a video about our way to style and work during a wedding day.
Impossible to have a team of 4 people with us on a real wedding day, so we had this idea of organizing an elopement, so the Sony team can follow us on a full day.
Here we are, I found a bunch of talented people to work with us on this project, and organized it all.
| Yes it's fake, but not fully.
Because we put everybody in a real condition wedding mood, the magic happened. During the ceremony in this beautiful sunset, in this amazing desert landscape, Aida and Ismael were both in their world. And Aida started to cry while saying her vows, putting us in tears and laughs too. Can you believe that? I'm so proud I was able to make this all works as we imagined for us, and for them too, creating - i hope- unforgettable experience and memories.
| Love is real, the words they told to each other are real too. Everything around is just decorum. And that's what matters the most.
Oh and stay tuned, because Jeremie's video is coming soon, and the Sony video too!
By the way, special thanks to Sony for offering us the great opportunity to do our things.
B.
Dress: Wednesday Atelier | Make Up: Billy and Clyde | Crown: Loschy | Jewelry : Petite Delights | Embroidered handkerchief: Cousu | Couple: Aida & Ismael | Sony video by: Hope and Glory