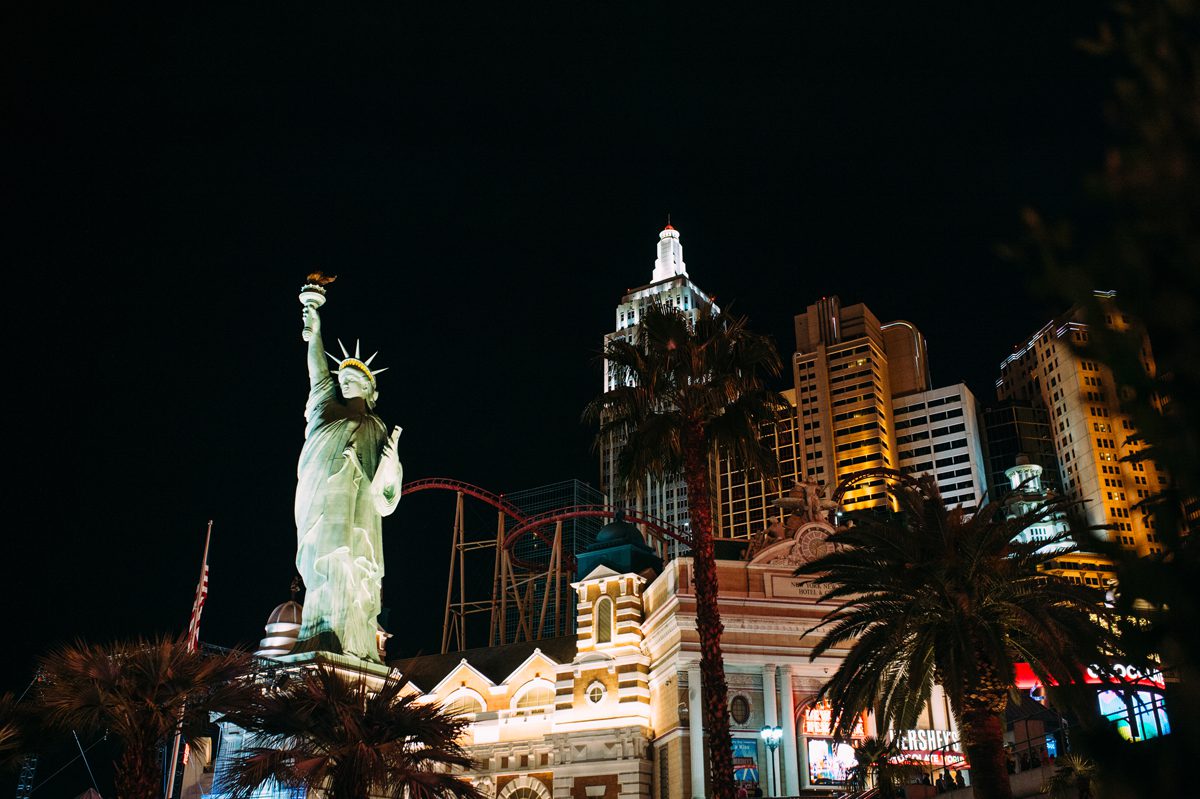 First the background: every year takes place in Las Vegas the largest gathering of photographers / videographers of the world! WPPI is five days of conferences, 15000 Professionals, an incredible human experience to live! I had already participated the WPPI in 2013, but this year we decided to go both together, and enjoy our time by discovering a little piece of Nevada and California.
I have a lot of pictures, so I will put "only" a few. But you can see more photos of our adventure on Instagram with the hashtag #thequirkyinusa
So…

___________
We started by Las Vegas. That is where we landed, and this is where the conference will take place, so a few days before, we took the opportunity to tour the neighborhood! Its modern architecture, crazy enough hotels, casinos of course … Day and night, it's full, it's noisy, it's beautiful and superficial at the same time, and you can quickly lose your time! Erudite minute: did you know that there is no clock or even time display throughout Las Vegas !!? EXCEPT in one place: the replica of the Piazza San Marco where the Venetian Hotel is. besides, you can take a gondola ride, lyrics singer included! (*** warning *** it's a tourist trap, like many things in Vegas!)
And after walking ALL the street, passing through few hotels (did 25km on the day, oh yeah!), we wanted to take a turn into old Las Vegas.
The next day, head for the Neon Museum, which is downright fun! In this place are stored and restored the old signs of Las Vegas. And the guide, really funny, told the story of the city, scams and shenanigans included!
And near the museum, we saw a nice wall, so we took some portraits 😀
Then we decided to walk to the old Vegas and came across to the Art District. It's an amazing area where street art is religion. Each wall is a seriously work to see!
And inevitably, we saw some nice walls, so we took some portraits again 😀
Then we found thses guys… Sign spinners!
Curiosity piqued, we made them a little chat! This is actually a team of pros from all around the USA. They were training under a bridge for the competition which took place a few days later. We even learned that France was represented!
Then we went for a little ride in the desert ("little" meaning a minimum of 20km daily throughout the trip! LOL). The Valley Of Fire is the perfect name for this place! Yellow and red hues everywhere! The sunset here is worth it!
I pass the 5 days conferences talking about marketing, communication, shootign blah blah … To get to the end of the 10 first days, with a last ride with photographers mates in a Ghost Town, 1 hour from Las Vegas. A film sets that makes you want to play cowboys!
Friends returned to France, we leave off Nevada for California! Go toLos Angeles, where a nice Airbnb waiting for us!

Puis le Walf of Fame, un passage devant le salon de L.A. Ink, Beverly Hills, Hollywood, et enfin Venice Beach… Aaaah Venice Beach, c'est comme dans les films: il y a des gens qui jouent au basket, des blondes pimpées qui font du roller, des joggeurs, des skaters, des bikers… Et tout ce beau monde cohabite le long de cette superbe plage.
Great, but too short stint in L.A., we already start to reach Palm Springs, final leg of our trip before we also go home.
If we were to remember only one thing from Palm Springs, it would be: its snow !!! Can you believe it ?? There is snow in the middle of the desert !! Well, at the top of the mountains … Yes because there are also mountains in the desert!
Imagine, downstairs you got hot and sweaty, so you take a cable car! You look left … hot!
Then right … cold! We had to take our coats! OUR COATS !!
 After leaving the Ruby's Dinner, we spent our last day in an incredible Indian reserve, between jungle, rocks and waterfalls. We tried to nab one of those little lizards. Too vivid, abandonment. Birds of prey hovering over our heads … Creating an atmosphere like "you do not come out alive…". But it was cool eh! 😀
And voilà!